Meet Dr Samantha Teoh, Chiropractor
Choosing a Chiropractic Career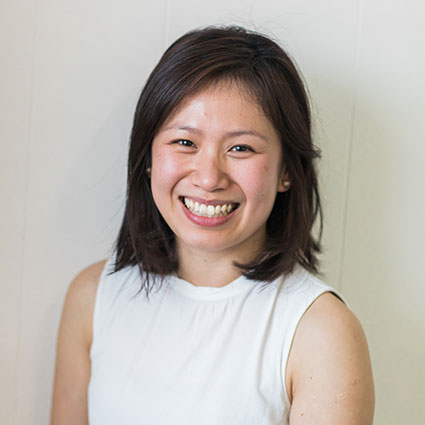 Samantha grew up believing that natural healthcare methods could help people achieve the health they wanted, without drugs or surgery. She knew she wanted a career that allowed her to work with people in a hands-on way, and chiropractic aligned with her own philosophy about health and wellbeing.
Samantha attended RMIT, where she earned a Master of Clinical Chiropractic in 2008. She began practising in 2009 and, after working in other clinics for several years, she joined Weston Creek Chiropractic Centre in 2014.
In addition to her chiropractic education, Samantha is also a pharmacist. That might seem unusual, given that chiropractic is a natural, drug-free approach to care. She uses her pharmacy education to help tailor care for patients whose medications might otherwise make some types of adjustments contraindicated. This unique aspect of our practice allows us to take the patient-centred care we provide to the next level.
Care for All
Samantha loves helping patients from all walks of life achieve their goals, and she has a special interest in helping people with sports injuries. This doesn't just mean professional athletes—sports injuries can happen to kids playing on the playground, weekend warriors, and people just keeping in shape at the gym.
EXPLORE OUR SERVICES
Adjusting Techniques
Before coming to our practice, Samantha mainly offered traditional manual chiropractic adjustments. Since our patients had been accustomed to receiving Activator® Methods instrument-assisted adjustments, she continued with this technique for those patients who prefer it, and also offers hands-on adjustments. Her approach is patient-focused, and she will design a care plan that helps you achieve your goals and suits your preferences.
Away From the Office
Being a mum of two young girls keeps Samantha busy! When she gets some free time, she enjoys gardening, reading, and staying current on the latest evidence-based chiropractic care.
Schedule Today
Contact us today to book, or use our online booking feature.

Dr Samantha Teoh | (02) 6288 6711